Nederlandse ambassade opent zijn deuren in Belarus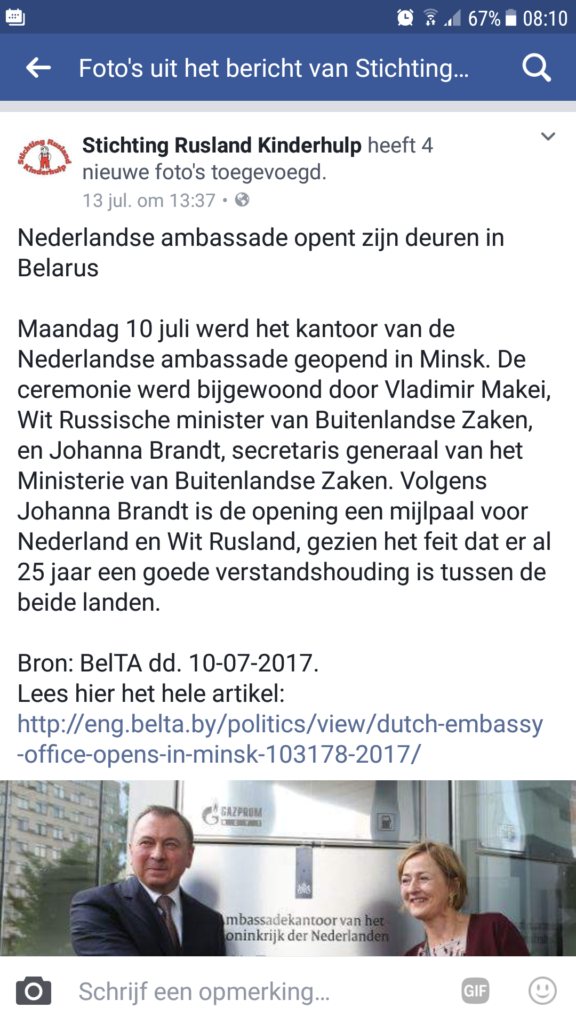 Nederlandse ambassade opent zijn deuren in Belarus. Volgens Johanna Brandt, secretaris generaal van het Ministerie van Buitenlandse Zaken, is de opening een mijlpaal voor Nederland en Wit Rusland, gezien het feit dat er al 25 jaar een goede verstandshouding is tussen beide landen.
Dutch Embassy Office opens in Minsk
Politics 10.07.2017 | 13:50
MINSK, 10 July (BelTA) – An Office of the Embassy of the Netherlands was opened in Minsk on 10 July. The ceremony was attended by Vladimir Makei, Belarusian Minister of Foreign Affairs, and Johanna Brandt, Secretary-General of the Ministry of Foreign Affairs of the Netherlands, BelTA has learned.
According to Johanna Brandt, the opening of the diplomatic mission is a landmark event for the Netherlands and Belarus, particularly considering the 25th anniversary of diplomatic relations between the two countries. She commented on the status of the relations between Belarus and the Netherlands in the context of the developments of the past several years in Belarus and the fact that the country borders on the European Union. "We achieved great progress, but there were issues in our relations. However, we have always managed to work constructively to develop our relations," the Dutch diplomat said.
One of the successful examples of cooperation is the Children of Chernobyl program. Many Belarusian children aged 7 to 11 have visited the Netherlands as part of the program. Over years this small initiative has evolved into a well-established program which involves dozens of Dutch municipalities.
"We are confident that our presence here will contribute to closer cooperation, peace, stability and prosperity of your people and the region," Johanna Brandt said.
She also noted that the Netherlands appreciates the joint projects in the field of culture and sports. "I have high hopes for the FIFA World Cup qualifying match due late this year when our Orange Lions will meet again with the White Wings from Belarus. Our countries share this passion for football and sport. It is a wonderful way to improve the relations. I wish both teams all the best and look forward to the exciting game," she added.
Johanna Brandt stressed that the bilateral cooperation of Belarus and the Netherlands is actively gaining momentum and expressed hope for its further development in various fields. "The opening of the Embassy Office is the first step which will be followed by the appointment of a diplomat who will represent the Netherlands in Belarus," she added.